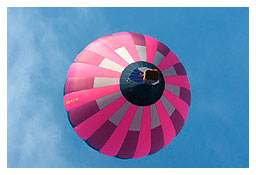 Rise up gently from the ground and discover Tuscany from an alternative perspective!
We are pleased to be in a "position" to offer you Tuscany from another perspective, a privileged point of view.
Passengers could reach our BalloonPort in Tavarnelle Val di Pesa, or can be driven to the departure field by the courtesy car and accompanied by a member of the crew, with extra cost.
The experience starts from the inflation of the balloon at ground level, a moment which has all the anticipation of flying…defined by one observer "the Pilot-dance". Once the balloon is ready, it's time to jump up into the basket and prepare one's camera…
Rides last from 45 minutes to one and a half hours, during which, thanks also to smooth flying conditions, you may take the opportunity to shoot wonderful images of exclusively Tuscan landscape: admire the infamous "red-roofed" towns and follow the course of bashful wild animals taking "flight" in the fields below…. The first light of dawn creates the magic frame for the scene your eyes are observing…