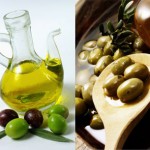 On a glorious afternoon this fall I fell in love with Italian tradition once again. Basking in the beautiful sunshine, I spent time with my  friends learning about and tasting olive oil, at Podere Gli Scassi.
While this age-old tradition is special in its own right, I met a man  who speaks about olive trees, harvesting and oil with such poetic words the farmers before him would surely be honored.
When Lars  Gehrig speaks about his farming techniques and beliefs, his words are filled with respect and admiration for all of the tradition of this  ancient practice. He is impassioned about his lifestyle, living on his olive farm with his wife and family, and even more so about respecting  the earth which gives them their harvest every year.  That afternoon Lars offered us an oil tasting that was straight out of a magazine cover. Situated in the mountains of Pistoia, the farm offers  stunning views of the Tuscan country.
Atable was set outside of the 350-year-old farmhouse for us, complete with wine, oils and  antipasti. While the geese and chickens roamed around the yard we proceeded to taste and learn about the oil which has inspired people  for ages.  The oil produced at Podere Gli Scassi is special because of the family's approach to farming. They refuse to use pesticides or chemicals  at all.
They also mill the olives in stainless steel, which is beneficial in extending the length of the oil's freshness as well as preserving  its health benefits. He proudly talks about the low acidity of the oil and the peroxide level, both of which are very important to  the oil's flavor, freshness and quality.
By tasting other oils alongside his, it is easy to tell in a short amount of time why his oil has won a  gold medal in the Los Angeles County Fair. The oil is so full of flavor and texture I feel as though every drop consumed is a gift.  Our group, most of us being from places outside of Italy, usually tried to buy the best oil we could and enjoyed it. Now, we were experiencing  something so stunning we were speechless.
The taste difference is amazing and inspiring. The flavored oils they produce at  Podere Gli Scassi inspired a lengthy conversation about all the different ways it could be used to enhance our meals and our desserts.  Once you try the lemon oil I feel you will agree that pastry made with this would be divine.
As the sun set and the wine ran out we faced the reality that we must all return to our homes and leave this place. While walking to our  cars, slowly, savoring every moment, it was mutually concluded this experience had changed all of us. It was wonderful to taste the oils  and learn more about the traditions of this beautiful country but more importantly, the time we all spent together on this beautiful farm,  with such a great family, was something so wonderful we will forever carry in our hearts.
From Grapevine