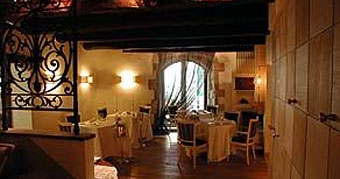 Da Caino
A ROAD TO SIMPLICITY
It's not easy getting to Da Caino. The restaurant is located in a forgotten section of Tuscany called Maremma, a 40-minute drive southeast of the coastal city of Grosseto, next to the Saturnia hot springs. But its well worth the effort.
There's a relaxed, country atmosphere to this smali family restaurant located in the medieval village of Montemerano. Just walking into the warm, cozy dining room with its wooden beams and fireplaces makes you feel at home. Owner Maurizio Menichetti takes care of the service and the wine cellar. His wife, Valeria Piccini, is in charge of the kitchen.
Menichetti's wine list is well thoughtout, although the white selection is a bit thin. He only lists a portion of the wines stored in his 20,000-bottle cellar. So if you don't see a particular wine you want to taste, ask for it. Wines from the region of Maremma are extremely interesting, especially the super Tuscan red from Fattoria Le Pupille, Toscana Saffredi, and a new bottling calied Poggio Valente from its Morellino di Scansano vineyard. There are also plenty of vintages of favorites such as Sassicaia, Ornellaia, Masseto and Solaia, as well as top Brunellos.
And the food is outstanding. It is 100 percent cucina Toscana. Traditional antipasti include small pieces of toast with chicken liver páté and tripe salad with beans, olive oil and thyme; among the classic main courses are grilled sliced steak covered with truffles and roasted lamb with a confit of garlic.
Chef Piccini gives a light touch to everything she does. She cares deeply about her ingredients, and attempts to source the best of everything, from local pecorino cheese and seasonal vegetables to hand-raised lamb.
A smooth, creamy potato soup with a half-dozen boiled quail eggs and slices of spicy Parmesan is warm, succulent and tangy. Another starter of fresh ricotta cheese covered with sliced white truffles and dashed with fresh olive oil is simple but electrifying-the fresh, creamy cheese mingles perfectly with the earthy mushrooms and spicy, tangy oil. Main courses are equally flavorful. Braised oxtail in a sauce of balsamic vinegar and meat reduction is decadent and pungent, yet it's not heavy or overpowering. Save room for dessert: A coffee tart with a caramel and chocolate sauce is richly chocolaty, but not too sweet.
The only bad part of the evening is facing the drive back after the meal. Perhaps it's better just to give in completely and book one of the three rooms available for the night.
Via Chiesa, 4
58050 Montemerano (Grosseto)
Ph. +39 0564 602817