Casale Sodini is proud to offer you the chance to savour – "Meeting with the Artists in Pietrasanta".
Book the Villa during January 2009 for a stay at any time in 2009 and we'll include "Meeting with the Artists in Pietrasanta" program of event at no extra cost!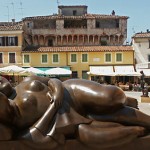 This enchanting medieval town, so beloved to very renowed sculptors as Mitoraj, Botero, Cascella, Finotti, Capotondi, Rhon, Gamundi, Heppe, etc. , will be the special meeting point where spending a delightful and unforgettable day. This chance is not to be missed! It is an opportunity reserved to few and lucky people who love to be in touch with the "sculptor's closest world". Realise a work of art is always an intimate process for the artist and he is sometimes very jealous about his works, but we are allowed to this unique, incredible experience.
To start our trip, it is a pleasure for us to welcome you in Duomo Square (one of the most beautiful square in the world) around 10 o' clock, 10:30 a.m.
We immediately reach the artist's studio/workshop. The artist  waits for us, as an old, kind friend, just to disclose his secrets and show us how his sculpture was born. Behind a creation there is always an hard work, lot of passion and affliction till the last day, when the work is finished and the artist finally feels a great joy and forgets the agony.
A fine collection of bronzes take the same care and attention, in order to see statues made of bronze, we will visit a foundry, where we could feel again the same charm as before. The artist, as an intimate friend, will gladden us sharing the "pleasures of the table".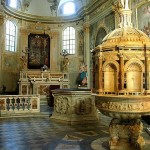 We can choose a characteristic restaurant in the countryside, or one of the many restaurants on the beach breathing the sweet smell of the sea and eating fresh fish. The inevitable conclusion is a toast to celebrate this wonderful day together.