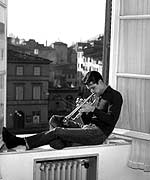 It was in a summer of 1961 and as dusk fell upon the iconic walls of Lucca, a small cadre of conoscenti made their daily pilgrimage to the green fields that li eoutside the Walls beneath the Penitenziario San Giorgio, the medieval town's ancient prison.
Here, as the golden sun was about to set, fans of American Jazz trumpeter Chet Baker would gather and lament their fallen hero's  incarceration while the plaintive wail of his horn cascaded through the iron bars of his jail cell and on to the waiting field below.
Returing the call, at this times would be members of his local band – Il Quartetto di Lucca – who would call out scout of ecouragement as their leader lay in this iron-bound cell.
Chet Baker and Lucca were a perfect fit back in the days of the Economic Boom. Italy with its flair for style, love of pathos and penchant for romantic arias complemented Bkaer's rugged good looks, his need for compassion and his lusch, organic harmonics. Serenaded by his warm, laid-back tones, Italians heralded the young American as the Golden Trumpet and many said he had the face o fan angel. And yet there was soon to be trouble in paradise, for Baker was addice to heroin or any narcotic substance that mimiche its affect.
By the time the trumpeter had arrived in Lucca he had already made a name for himself playing with be-bop giant Charlie Parker and tenor saxophonist Stan Getz and had a very success full stint with the Gerry Mulligan Band. It was his involvement with Mulliganand their rendition of My Funny Valentine that would lead Baker to record the song indipendently and make it his own.
After signing on to do a summer-long engagement at the historic Bussola Club In Marina di Pietrasanta, Baker's uncontrollable thirst for his narcotico f choice attracted the attention of local police and, in late August of 1960, he was arrested at the Villa Gemma Pensione (know today as Gemma del Mare Hotel) where he ws living.
A sensational trial ensued in Lucca and caused dismay and outrage throughout Italy. Found guilty of drug trafficking and fogery, Baker was sentenced to twenty months' incarceration and fined 150,000 lire.
While he was in jail, friends andinmates marveled at how well the trumpeter honed his Italian.
Perhaps it was due to his musical ear, but most said that his new-found language was spoken with little if any accent.He also used his time composing several songs: Chetty's Lullaby, So che ti perderò, Motivo su raggio di luna and Il mio domani wich can be heard on the album Chet Is Back wich celebrated his return from prison.
After a successful appeal, Baker's sentence was reduced and his release came days before Christmas of 1961. Lucca's Teatro del Giglio became the site of a concert celebrating the trumpeter's newfound freedom and well-wishers filled the quaint opera house to overflowing.
Here, in the town of Puccini, they were witness to an unfolding human drama that paralleled the joy, the sorrow, the victories and the dashed hopes of any classic operatic work. A tragic musical life that would eventually wind its way through the narrow, dark alleys of Europe and down the wide, lit boulevards of America's cities, only to end violenty, in the late eighties, on an empty cobbled street in Amsterdam.