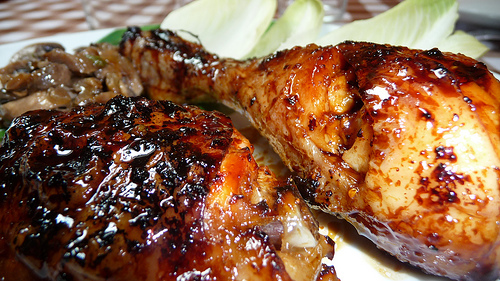 Ingredients:
1 chicken weighing about 1 kg;
one bottle of Montecarlo Bianco wine;
one 400 g (approx.) bunch of Trebbiano Toscano grapes;
a little podere cinnamon;
3 glasses of brandy, salt, pepper, a little white flour, some bay leale.
Marinade the grapes in the brandy and cinnamon.
Place the grapes inside the chicken and close the opening. Add salt and pepper and brown the chicken in a saucepan with the bay leale.
When it is well browned, add a glass of wine and continue to cook for about 40 minutes in the oven.
Baste woth glasses of wine to keep it moist.
Carve, place on a serving dish and surround it with the grapes and sauce made by adding the flour and glass of wine to the coking juices.