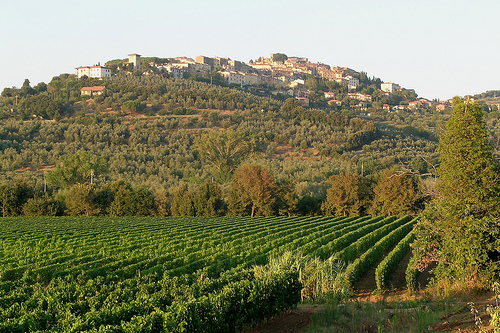 Castagneto Carducci – or Castagneto della Gherardesca, from the name of the family, Lombard in origin, of which it was the fief; is situated in the south of Livorno province in  Tuscany, located about 90 km southwest of Florence and about 50 km southeast of Livorno.
The della Gherardesca family are today the oldest Italian family, and the castle at Castagneto – still inhabited today by the family's descendants – dates back to the year one thousand.The present-day name of Castagneto Carducci was given to the ancient fief in 1907, in honour of the poet Giosue Carducci who stayed there as an adolescent and who always remained bound to it.
For this reason, the citizenry decided to change the name that it had at that time, Castagneto Marittimo, to that of Castagneto Carducci.Dominated by the castle of the della Gherardesca counts, Castagneto Carducci appears with all the charm of a village of medieval origins. The streets have been developed in concentric rings starting from the castle, which was originally surrounded by walls. Today, only a section of the walls remains, facing the sea.