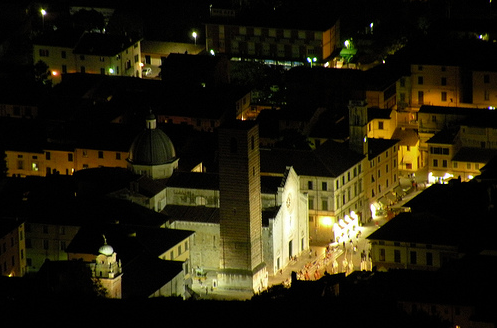 Pietrasanta is a town and comune on the coast of northern Tuscany in Italy, in the province of Lucca.
Pietrasanta straddles the last foothills of the Apuan Alps.
The town is located 3 km (1.8 miles) off the coast (where the frazione of Marina di Pietrasanta is located).
Not far in the mainland is the Alpi Apuane massif.
The town has Roman origins and part of the Roman wall still exists.
The area, like most of Tuscany in general, has long enjoyed the patronage of artists. Pietrasanta grew to importance during the 15th century, mainly due to its connection with marble. Michelangelo was the first sculptor to recognize the beauty of the local stone.
Today, the Colombian painter and sculptor Fernando Botero as well as the Polish sculptor Igor Mitoraj and Polish F1 driver Robert Kubica have residences in the comune.