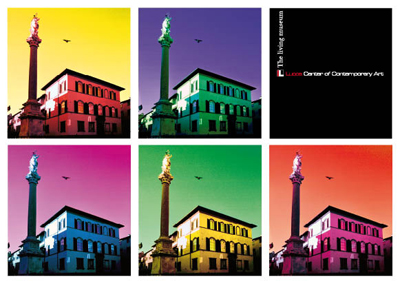 As the designer dresses and killer heels strained to get a closer view of the dignitaries o fan elegant Palazzo a the Madonna dello Stellario on saturday May 9thm any tourists casually bumping into the scene would have been forgive for  believing they'd accidentally driven to Milan rather than Lucca. They were in fact witnessing the opening o fan exibition of 1950s italian abstract art, Un Mondo Visivo Nuovo. Origine Balla, Kandinsky e le astrazioni degli anni '50.
As one of the Regione, Provincia and Comune authorities addressing the crowd honestly remarked: "Lucca ha ricevuto un regalo bellissimo" ( Lucca has been given a magnificent present). And gift it is as the Lucca Center of Contemporary Art, so suitably acronymed Lu. C.C.A. is the private "10 year dream made real" of modern art lover Angelo Parpinelli. Sixteenth century Palazzo Boccella has been given a stunning revamp in which every detail reflects the aesthetic panache of Italian design, from the white windows screens to the Giugiaro fire extinguishers that could easily have been placed on the wall as exhibits. The lounge cafè with is custom designed table tops is a cool place for the happy hour and you must visit all five modern bagni decorated by contemporary artists and aplty re-named, with a clever pun, Bi-Sogni di Artisti.
The juxtaposition of old and new is most tangible in the cantine built on the base of one of medieval wall towers ( you can still see the stones) where modern sculpture stands alongside 16th century frescos uncovered during restoration. And also on the top floor which offers breathtaking peeks of Lucca rooftops.
The high ceilinged saloni on the first and second floor have been turned into sharp white containers to house exhibitions of contemporary art whilst the ground floor hosts a reception area, multi media and video space plus a photographic exhibition area. The gigantografie currently on show document the rise of modern Milan in the economic boom years of the late 50s and 60s. Architect Luigi Moretti who designed many of these modern tower blocks had an intense artistic correspondence with the painters of ORIGINE and shared their vision of urbanology and role of aesthetics in modern life. Sun bounces boldy off geometrical blocks.
It is pure form and line, with all embellishment and ornamentation banished in tune with the spirit of the paintngs upstairs.
The appreciation of contemporary art requires much more of an effort on the part of the viewer than a cursory walk past figurative paintings, and the marking of another notch on the "have done" art tourist stick. Only if you attempt to relate the work sto their sociological background and context in history will you get a real under standing of the unusual meterials, difficult images and colours.
It is 1951, and the atrocities committed by man against man in World War II have robbed artists of the desire to represent the human figure or recognizable objects. A group of psainters, sculptors, and architects with a shared sensivity and a belief in the moral and social mission of their profession, join together in Rome calling their group ORIGINE.
As the word implies a sort of return to primitive forces, to be espresse through primordial form and symbols. Hence Burri's work in catrame (tar) and Capogrossi's cave drawing-like ripetitive symbols.
The exhibition provides excellent commentary ( in Italian and English) on each group of paintings and i was particulary struck by the magazinenes and notebooks displayed in the foyer. Here the artists themselves explain what they were trying to archieve, often in severe manifesto style, but sometimes in great simplicity. With a real optimistic sense of starting over Ettore Colla, sculto and painter, records in his 1955 diary ( a handwritten unpublished text from the Colla Archives, Rome).
I you are not usually attracted to modern art, the artists' intentions may seem utopian waffle, but here is the trump card of this new museum. Purpose built, the size and lighting of the rooms and the way the works are positioned seem to make you actually touch the paintings whose tones and brushstrokes establish physical contact with the viewer's consciousness-give them a change and they speak. One emerges from Lu.C.C.A. with a clear vision o fan artistic period, and real sensory experience, unlike many an immense gallery which leale on in a state of overdose and confusion.
And to recreate that feeling at home you can buy the specially chosen music and fragrances – they change for each new show – or buy the catalogue on sale in the shop together with art books, high class custom – designed jewellery, and Lu.C.C.A. merchandise.
Lu.C.C.A. Lucca Center of Contemporary Art
Via della Fratta 36, Lucca
Tel. +39 0583 571712
www.luccamuseum.com
Entrance euro 7,00
Open tuesdays to sundays 10.00 – 19.00
Last ticket sale 18.00
Closed mondays.
Baby sitting services on request, art area specially for children upstairs.
The exhibition "Un Mondo Visivo Nuovo" runs till august 23.