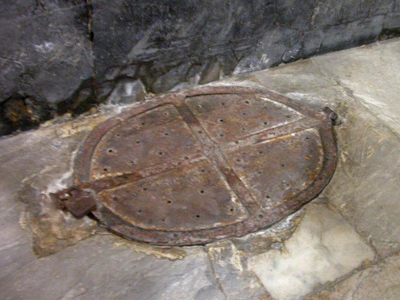 Not far from the S.Frediano Basilica one finds the thirteenth century Church of S. Agostino.
Inside the Church there is the image of the Madonna, with er arms the Holy Child, and on the right shoulder a kind of bruise… at the feet of the Holy Image, a trap closed by a metal grill with a lock. We are talking of the "Madonna del Sasso"., whose name goes back to a dramatic event.
The story goes that a hardened gambler, having lost all his goods and blinded by anger, trew a stone against the holy image. Two simultaneos extraordinary events immediatly occorre: to avoid the Child from being  hit  the Holy Virgin changed His position from the right arm to the left one and practically at the same time, while Her harmed shoulder was bleeding, an abyss opened-up under the fanatic's feet that had refused to repent himself and swallowed him.
The two simultaneos miracles were seen by many persons.
The eventi s recalled by a latin inscription whose transaltion says: "the impious person didn't know the Holy Virgin was about to forgive him if only he had repented himself".