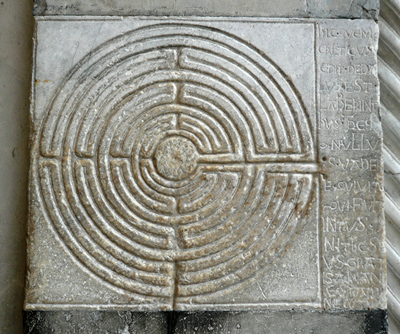 Next to well known monuments as the famous Ilaria del Carretto's sepulchre by Jacopo della Quercia, the S. Martino Cathedral, built during the sixth century, preserves also some "mysteries" which need to be mentioned.
One of these is with no doubt the labyrinth situated outside the Church, carved on the pillar leaning against the bell tower. Of a circular shape it shows on its side an inscription in Latin hexameters whose translation says: "This is the labyrinth built by the Cretese Dedalo, and once inside, no one could get out; except for teseo, felpe for love, by Arianna's string". One can ask oneself why a clearly pagan symbol is placed at the entrance of a Christian Church.
The ansie can be found in the nearly certain allegoric meaning given to the same labyrinth as a place of sin from which only the love of Christ and faith in God can free us, just as Teseo found the exit tank to the Arianna string.