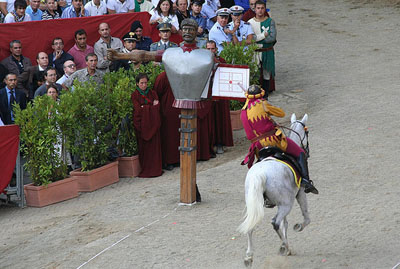 Starting on 6th september 2009!
This tournament has its origins in the early 16 C and commemorates Christian efforts to hold back the tide of Islam in the 14 C. A lively and colourful procession of costumed participants is followed by the main event in which eight costumed knights charge towards a wooden representation of the Saracen, aiming to hit the Saracen's shield with lances.
The Saracen is mounted on a swivel so that part of the task of the knight has to avoid being struck back.  Each pair of knights represents one of Arezzo's four rival districts and their supporters each occupy a side of the piazza. The winner receives a golden lance.
More information on: Giostra del Saracino