Otis' Reason 2
2 – Ambience, Ambience, Ambience!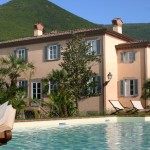 Built in the 17th century, Villa al Boschiglia is set in beautiful northwest Tuscany, in the ancient parish of Vorno near the magnificent medieval town of Lucca.  Displaying the easy elegant lifestyle of the period, the noble, or main, floor is raised from the country floor, and entered through a portal atop the outside double flight stairway, with a symmetrical distribution of the other rooms around the central salon. There is also interior access to the country, or ground, floor where guests can enjoy delightful dinners in front of a large fireplace. 

Guests are embraced by the gentle colors and sharp fragrances of the panoramic countryside. Upon the opening of the private gate, the guest's first sight is an alley of 'tall and pure' cypresses. The wide park of the villa with lime-trees, oaks, olives, magnolias, large bushes of aromatic plants, and roses is the ideal background in which to begin one's visit.