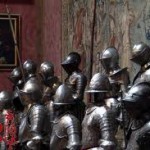 The Stibbert Museum is located on the hill of Montughi in Florence, Italy. The museum contains over 36,000 artifacts, including a vast collection of armor from Eastern and Western civilizations. The museum was founded by Frederick Stibbert (1836 – 1906), who inherited a vast fortune from his grandfather and did not work for the rest of his life. Frederick Stibbert dedicated his life to collecting various objects, antiques, and artifacts and turned his villa into a museum. When the size of the collections outgrew the villa, Stibbert commissioned various additions created by the likes of architect Giuseppe Poggi, the painter Gaetano Bianchi, and the sculptor Passaglia, who contributed to the present day appearance of one of the most precious examples of l9th century museums. 
The vast park surrounding the villa is recognized as one of the most beautiful gardens in Florence.
Today, the museum comprises 10 rooms to exhibit the wide-ranging collections of Stibbert. The rooms are crowded with very sumptuous objects reflecting the taste of a collector. The museum includes a very lavish group of portraits belonging to different ages and most of the wall drawings are in leather. The furniture itself includes very valuable pieces dating back to the 15th century. There are important porcelains and majolica that were produced by the most important Italian and foreign manufacturers.
The museum, however, owes its reputation to its collection of arms and suits of armors that comprise an incredible number of varying and rare pieces ranging from the 15th to the 17th centuries. The vast majority of arms are European, although there are also Oriental, Persian, Indian and Islamic examples. A particularly suggestive view is offered by the parade of horses and riders fully equipped to represent the Italian, German and Islamic arms and suits of armors belonging to the 16th and 17th centuries. The museum also displays a very important group of Japanese arms, with dozens of suits of arms and hundreds of swords, which constitutes the largest collection of this kind outside of Japan.