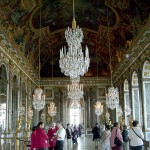 In the second half of the 16th century, the Pucci family commissioned the celebrated Tuscan mannerist architect and sculptor, Bartolommeo Ammanatti (1511-1592) to create their magnificent palace.  During the centuries, the Palazzo Pucci has been restored several times, but its central body still preserves the splendid architectural savoir faire of Ammanati: the original stoned pavement on the ground floor; the amazing and large central window; the family emblem with the cardinal's hat and the large masks on the broken open tympanum of the windows located on the second floor. In the 20th century, the most celebrated descendant of that noble family has been Emilio Pucci, Marquis of Barsento.  Emilio Pucci was born in 1914 and died in 1992.  He was not only a famous Italian fashion designer but also a politician.
Emilio Pucci grew up in Palazzo Pucci. In 1947, his atelier was set up in Palazzo Pucci and in 1950 was shown in France as his first collection. 
Soon after, Pucci established showrooms in Florence, Capri, Milan, Rome, and New York. Subsequently, the Pucci mark was running all over the most important cities in the world imprinted on accessories, shoes, luggage, clothing, bathing suits, pajamas, lingerie, perfumes and a long etcetera, as one of the most stylish and valued representatives of the Italian fashion.
Palazzo Pucci (Via dei Pucci, 6) sits off Via Cavour linking it to Piazza San Marco. Ammanatti's style shows the traces of Michelangelo's art. 
Prior to this commission, Ammanatti had worked with the most influential architects of his times, Giacomo da Vignola and Giorgio Vasari, building the villa for Pope Julius III in Rome . Other works in Rome by Ammanatti were the Palazzo Ruspoli and a section of the Collegio Romano's design. On returning to Florence he became Cosimo I's architect. He designed and directed the construction of Ponte di Santa Trinità and some important fountains, among which is the celebrated Neptune  in Piazza della Signoria. Besides the Palazzo Pucci, he planned the facade of Palazzo Pitti, the Palazzo Guigni and the cloister of the Chiesa dello Santo Spirito. The 14th- and 15th-century Palazzo Pucci today has the rare distinction of being occupied by the same family since its construction. Its interior is an uninterrupted family biography written in the decorative arts.