In August you'll find many small festivals in Italy. Look for brightly-colored posters (like the one in the picture) for a 
festa
or sagara on weekends in August, where you can usually sample inexpensive regional food. Many Italians take vacations in August, often to the seaside, so you're more likely to find small festivals there. You may run across a medieval festival that includes people dressed in medieval costumes.  There are also many outdoor music performances in August.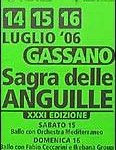 August 15, Ferragosto
(Assumption Day), is a national holiday so many businesses and shops will be closed. You'll find celebrations in many places in Italy on this day and the days before and after, often including music, food, and fireworks. In some big cities like Rome and Milan, however, the city will empty out as Italians leave the city for the beaches and mountains.
Here are some of the bigger festivals you'll find in Italy in August.
Tuscan Sun Festival is a top summer arts festival that gathers well-known artists and musicians for 9 days of music, art, cuisine, wine, and wellness in Cortona, Tuscany, starting the first weekend in August. The program also includes lectures on wellness and cooking demonstrations, art exhibitions, pre-concert receptions with locally made products and a wide range of Tuscan wines.
Medieval Palio – Felire in the Veneto region holds a medieval festival the first weekend in August with a parade and archery competition.
La Quintana – Ascoli Piceno, in Le Marche region, holds a historic jousting tournament the first Sunday in August. The tournament, one of the best medieval festivals in the Marche, is preceded by a huge parade with people dressed in fifteenth century costume.
Festa della Madonna della Neve, on August 5, celebrates a miraculous summer snowfall in the fourth century that prompted the building of the Santa Maria Maggiore Church, one of Rome's main churches. The snow is recreated with flower petals at the church. This festival is celebrated other places, too.
Palio del Golfo, a rowing race between the 13 maritime villages that border the Bay of La Spezia is held the first Sunday in August in the water off the promenade in La Spezia.
Giostra di Simone, in the Tuscany town of Montisi, is held the Sunday afternoon closest to August 5. First there's a costumed parade followed by a tournament of knights representing the four contrade, or neighborhoods, of the town.
Palio of the Pupe, in Cappelle sul Tavo near Pescara, is a night parade of huge effigies that eventually explode with fireworks.
Festa del Mare – Diano Marina in Liguria holds a festival of the sea with a good fireworks display on August 15.
Castelli, a village in the Abruzzo region famous for its ceramics, celebrates August 15 by tossing all the imperfect ceramics from a height, smashing them in a dramatic fashion.
Festa dei Candelieri – The festival of the candle in Sassari, Sardinia, dates back to the 16th century. In this exciting festival held on August 16, you'll see a race with teams of men bearing huge and very heavy candles. It's a very interesting event.
Palio of Siena – The second round of the famous Palio race in Siena is August 16 (the first race was July 2). 10 of Sienna's 17 contrade, districts, compete in an exciting bareback horse race around Siena's central piazza. The winner gets the silk palio.  Siena gets very crowded around the time of the Palio so plan ahead if you're going.
The Miracle of the White Madonna is celebrated with a torchlight procession in the Ligurian seaside village of Portovenere on August 17.
La Fuga del Bove, Escape of the Ox, is a 3-week festival in Tuscany's town of Montefalco. Events include processions in historic costumes, music, food and drink, and competitions among the town's four quarters.
La Perdonanza, the Pope's pardon, is celebrated August 28-29 in the Abruzzo capital of L'Aquila with two days of processions in elaborate historic costume.
August Music Festivals in Italy
During August, you'll find outdoor music performances in many cities and towns, usually in the main piazza.  Here are some of the biggest music and performing arts festivals in August:
Estate Romana is a festival of music and performing arts in Rome during the summer. Look for information in the tourist office or on posters in Rome. Also in Rome, Castello Sant'Angelo has music and entertainment every evening through August 15.
Estate Firenze has performances throughout the summer in Florence.
Summer opera in Verona is in full swing.
Venice Film Festival, a huge international film festival on the Lido starts in late August.
Settimane Musicali di Stresa, 4 weeks of concerts in Stressa on Lago Maggiore start in late August.