Giacomo Antonio Domenico Michele Secondo Maria Puccini was born in Lucca, Italy on December 22, 1858 and died November 29, 1924.  From 1891 onwards, Puccini spent most of his time at Torre del Lago, a small community about fifteen miles from Lucca situated between the Ligurian Sea and Lake Massaciuccoli, just south of Vaireggio. While renting a house there, he spent time hunting, but regularly visited Lucca.  By 1900, he had acquired land and built a villa on the lake, now known as the "Villa Museo Puccini." He lived there until 1921, when pollution produced by peat works on the lake forced him to move to Viareggio, a few kilometers north. After his death, a mausoleum was created in the Villa Puccini and the composer is buried there in the chapel, along with his wife and son who died later.
Puccini's villa has been transformed into a museum. The rooms are well preserved and contain Puccini  heirlooms including the piano on which he composed some of his most famous operas. In a chapel room inside the house there are the sepulchres of  Puccini, his wife and son, and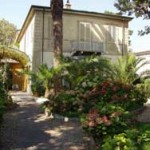 in another room his shotguns are preserved.  The Villa Museo Puccini is presently owned by his granddaughter, Simonetta Puccini, and is open to the public.  It is well worth a visit!
Operas written at Torre del Lago;
Manon Lescaut (1893), his third opera, was his first great success. It launched his remarkable relationship with the librettists Luigi Illica and Giuseppe Giacosa, who collaborated with him on his next three operas, which became his three most famous and most-performed operas. These were:
La bohème (1896) is considered one of his best works as well as one of the most romantic operas ever composed. It is together with Tosca one of today's most popular operas.
Tosca (1900) was arguably Puccini's first foray into verismo, the realistic depiction of many facets of real life including violence. The opera is generally considered of major importance in the history of opera because of its many significant features.
Madama Butterfly (1904) was initially greeted with great hostility (mostly organized by his rivals) but, after some reworking, became another of his most successful operas.
La fanciulla del West (1910) is an opera in three acts by Giacomo Puccini to an Italian libretto  by Guelfo Civinni and Carlo Zangarini, based on the play The Girl of the Golden West by the American author David Belasco.
La rondine (1916) is an opera in three acts by Giacomo Puccini to an Italian libretto by Giuseppe Adami, based on a libretto by Alfred Maria Willner and Heinz Reichert.
Il trittico (1918) is composed of three one-act operas: a horrific episode (Il tabarro), in the style of the Parisian Grand Guignol, a sentimental tragedy (Suor Angelica), and a comedy (Gianni Schicchi). Of the three, Gianni Schicchi has remained the most popular, containing the popular aria "O mio babbino caro".  The work received its world premiere at the Metropolitan Opera on December 14, 1918.