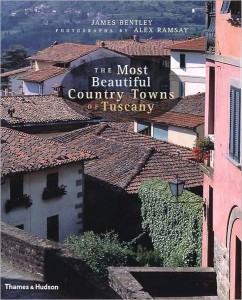 Tuscany, with its sweeping hillsides planted with vineyards and olive trees, Mediterranean villas, and distinctive regional cuisine, is one of the most popular regions to visit in Italy. It can be difficult to choose which of the villages to visit to get the most out of the region.
Bentley highlights 37 villages and towns; both for their intrinsic beauty and for the part they have played in Tuscan history and culture. Page after page of Alex Ramsay's magnificent color photos evoke the beauty of the land and capture the charms of the architecture, the landscape, and the people. Specially compiled listings of hotels, restaurants, and festivals complete the tribute to Tuscany and its villages.
This is a beautifully put together book.  The photography is outstanding.  You will long to visit Tuscany after reading this book.  It makes a beautiful coffee table addition.  You will find it hard to resist looking at it again and again. Here are just three of the recommended towns.
Artimino
Artimino is a small fortified hamlet in the Provence of Prato surrounded by olive trees and cypresses. The first evidence of the Village of Artimino dates to 998 with the  documented presence of the Pieve di San Leonardo, one of the best examples of Romanesque Lombardo architecture in Tuscany. The Etruscans were the first inhabitants of this site. Artimino affords splendid views of the neighboring countryside, whose vineyards produce excellent wines.

Bagni de Lucca
Bagni de Lucca, "land of princes and poets", is the largest mountain commune in Italy with a great number of hamlets.  It is known for it's historic spas.  It is situated in the valleys of the Rivers Serchio and Lima, surrounded by green hills covered with century-old forests of chestnut trees. Scattered in the area are many elegant mansions of the 19th century, surrounded by rich gardens populated with rare plant species, which poets and musicians used as a romantic retreat and source of inspiration.
San Gimignano
The "city of the beautiful towers" rises up from Tuscany's Elsa Valley like a medieval dreamscape. Once an Etruscan settlement, founded in the 6th century, it became a town in the 10th century, and in its heyday boasted 72 towers.  The towers were symbols of the power and wealth of the city's medieval families.  Today it is noted for its intact gates and palaces, as well as the 13 remaining towers built in 1150.  The town is surrounded by lush, productive land and the setting is altogether enchanting.