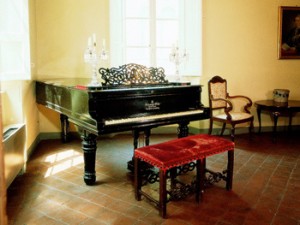 The birthplace of Giacomo Puccini Museum, originally opened in 1979.  It was closed for extensive renovations and is now open again for visitors.  The museum contains precious objects belonging to the musician on the piano with all the work which he composed Turandot.
There are also autograph scores of early works like the Mass for 4 voices of the 1880 Symphony of 1883 and the Capriccio, sketches, letters and photos.  A series of interesting paintings are a veritable gallery of family.
Lucca can boast a musical tradition that has few equals, and enumerate composers: Nicolao Dorati, Cristoforo Malvezzi, Josephus Guam, Giovanni Lorenzo Gregori, Francesco Barsanti, Francesco Geminiani, Filippo Manfredi, Luigi Boccherini,  and Alfredo Catalani, but certainly no one is loved and known as well as Giacomo Puccini.  Manon Lescaut, La Bohème, Tosca, Madama Butterfly, La fanciulla del West, Il Trittico, Turandot play in venues worldwide attesting to the greatness of his music.
On 22 December 1858, in the early hours of the night, Giacomo Puccini was born in Lucca in this house. He spent his childhood and early youth in Lucca, before moving to Milan to continue his studies. Today, the birthplace of Giacomo Puccini contains objects that belonged to him: family furniture, a coat, and valuable awards that testify to the extraordinary success achieved by the composer in the world.  Also on display are autographs of important early compositions, the Mass for 4 voices (1880) and Capriccio Symphony (1883), a rich collection of letters written and received by the composer between 1889 and 1915 (senders and recipients: the wife Elvira , his son Antonio, Giulio Ricordi).  Finally, you can admire the fine portraits of Giacomo Puccini Sr. and his wife Angela Piccinini by Giovanni Domenico Lombardi.